RHYTHM & THEORY
WITH SAVION GLOVER
OCTOBER 11-13
Expect the unexpected in three days of tap with world-renowned tap dancer Savion Glover and musician Mark Ingraham. Savion teaches rhythms that you create with your body rather than step-by-step routines. This residency also includes outreach in Jackson Hole Middle and High Schools and a free public lecture demonstration on Saturday, October 13 at 4pm at Dancers' Workshop.
FALL WORKSHOPS
ENROLL NOW
Announcing fall workshops! From Tap for All Ages to Country Western Swing and the classic THRILLER Workshop & Zombie Crawl, get ready for a fabulous fall at Dancers' Workshop. Learn more about the open program.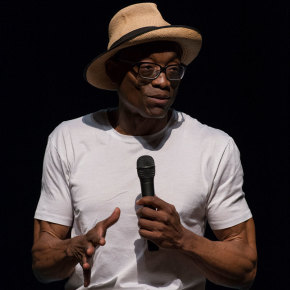 BILL T. JONES/ARNIE ZANE CO.
COMMUNITY PROJECT
OCTOBER 19-25
Calling for participants! Non-dancers and dancers 16+ are encouraged to participate in a community project led by MacArthur Genius Award and National Medal of Arts recipient Bill T. Jones and his Company. Jones himself, his Company, and a broad cross section of our community (at least 50 additional community members needed!) will make up this community performance project.
THE SCHOOL AT DW
LATE ENROLLMENT
Dance is more than movement. It's a time of discovery and a vehicle to explore rhythm, self-expression, communication and collaboration. For youth 18 months to 18 years old, we offer classes including creative movement, jazz, hip hop, ballet, pointe and modern. Classes have begun, but you can still enroll your child! Learn more about the youth program.
FAIREST OF THEM ALL
A DW ORIGINAL PRODUCTION
DECEMBER 7-9
The classic fairytale Snow White comes to life through dance this holiday season! Did you see last year's Alice or the previous year's The Wizard of Oz? Clever storytelling, beautiful dancing, comedic moments and everyone's favorite classic characters gives audience members something to talk about after experiencing our wildly inventive take on a familiar tale. Tickets on sale Tuesday, October 9 at 12pm MST through The Center Box Office.